How Often Should You Get Your Upholstery Cleaned?
It's usually not that often we think about the importance of regular upholstery cleaning. It's only when we realize one day that the furniture looks kind of "old", a bit dingy, and even stained or when a trusted friend suggests it by bringing up the topic of the benefits of regular upholstery cleaning. We may even get our own idea that perhaps it's time to replace the furniture - when in reality, all that's needed is upholstery cleaning. Yet, when you think about it, from the minute your furniture is carried into your house, it's attacked by furniture enemies.
Getting your upholstery cleaned on a regular basis saves you thousands of dollars it takes to replace furniture. The benefits of regular upholstery cleaning include keeping your furniture looking great for years plus protection from stains, dust, and other contaminants that attach to the fibers of your furniture.
And most importantly, this deep cleaning gives the room a sense a freshness that relieves stress once you walk through the door. When the furniture - and carpet are super clean, that's when you feel a sense of relief that you are at home and at peace. Your environment makes a big difference that cannot be ignored.
Why Upholstery Cleaning Matters
The three biggest enemies of your upholstery are dirt, dust, and allergens. The longer it's been since your upholstery went through a deep cleaning process, the more dirt, dust, and allergens there are that have embedded themselves into your furniture. This is similar to what happens to your carpet.
Dirt and dust blows into your home every time someone enters the room. Some visitors may have unknowingly brought with them soil pollutants such as heavy metals (lead, cadmium, aluminum, and more) from contaminated sites. This type of dirt is on their shoes and may also be on their clothes. As they walk through your home, the dirt and dust is released into the air and settles on your furniture.
They may also be carrying pollens from the environment as flowers and trees begin to pollinate. These also will deposit on the furniture via being carried through the air. Your exposure to dirt, dust, and allergens could be responsible for itchiness, skin redness, sneezing, sinus and throat infections, and feeling like you are zapped and have no energy. And this affects your whole sense of well being.
With clean upholstery, there's very little dirt, dust, and allergens in the air. Thus, these reactions are not triggered and you won't continually address the question, why am I sick today?
Also with the benefits of regular upholstery cleaning makes the furniture in your home look exceptionally nice, and almost like brand new. This gives you the sense that you are in the midst of beauty - and you feel as if you are royalty.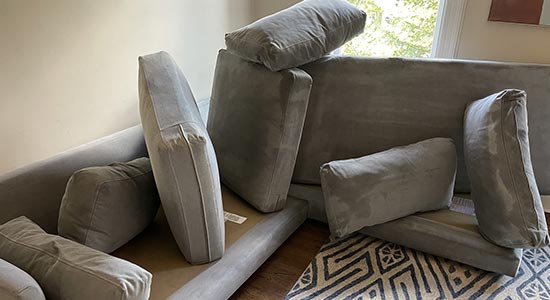 What Are the Signs That My Upholstery Needs Cleaning?
It's important to know the signs that tell you it's time to get the upholstery cleaned. These signs include the following:
Your clothes are picking up pet hair after sitting on a couch or in a chair.
Your allergy symptoms have worsened in the last few months despite medication increases or changes.
Looking at the furniture, there are visible stains on it.
There's a smell of anything except freshness that's emitted from the furniture when you place your head on it to lie down, or when you get close to it, or when you enter the room.
You have a thought that your furniture looks old.
The furniture feels rough and the fibers may pill.
Once you start to notice these signs, it may be time to call our cleaning technicians at Carpet Cleaning Dallas TX. We know how to properly clean upholstery.
Factors Influencing Upholstery Cleaning Frequency
There is no one all-inclusive rule about how often to clean upholstery. That's because it depends on the fabric type, usage and traffic, environmental factors, and health concerns about the home's inhabitants. Each case is very different. Below is what you should consider:
Type of Upholstery Fabric
Your upholstery could be made of leather, cotton, linen, silk, hemp, nylon, rayon, acetate, polyester, polypropylene, acrylic or rayon. How often to clean upholstery depends on the fabric.
Some fabrics like cotton and linen stain more easily while synthetics may be protected with Scotchgard. Silks and linen have to be professionally cleaned when stained; otherwise, they may shrink. Pet hair won't accumulate on leather but it may stain. Wool fabrics can hold odors and may need cleaning more often.
Synthetic fibers may pill up and are more easily cleaned but a professional upholstery cleaner knows exactly what to do to bring them to life again. The bottom line is that your upholstery professional understands care based on the labels of each of these fabrics while you may not. Upholstery cleaning frequency is based on the type of fabric; your professional will discuss it with you.
Usage and traffic
High traffic areas create dark spots in your carpets - and on your sofa. Daily usage is what your furniture was made for, but it also creates flattening or matting of the upholstery fabric. This gives a clear sign to your guests that it has not been cleaned in a while.
Generally speaking, the greater the usage and traffic, the more often it should be cleaned. This is something you should monitor; once you see the upholstery fabric looking flattened, that's the time to call in the pros. Upholstery cleaning frequency could be yearly or twice a year if you have pets or children.
Environmental Factors
If there's a construction project in your neighborhood, there will be more dust. Keeping your windows closed isn't going to keep all the dust and dirt out. You'll need more visits by the pros during these times. For example, a construction project that lasts six months may need upholstery cleaning frequency of one or two visits, depending on your proximity to it and the amount of dust that is generated.
Health Concerns
Allergies, sinus and lung conditions, and chronic health conditions of the inhabitants necessitates that the environment is super clean. Upholstery cleaning frequency may be once or twice a year.
How Often Should I Clean My Upholstery if I Have Pets?
Pets are great to have around but all of them have pet dander, which accumulates on the sofa and chair where pets love to lounge or look out the window. They also track in dirt from the outside on their paws and fur.
If you have a pet, you understand there may be times where little Rover decided to roll in something in the yard - and he brought in all the dirt and dust with him into the home. He jumps right onto his favorite chair and then transmits it all to the furniture, embedding it into the fibers. This affects how often you should clean the upholstery.
Because of all this, we at Tulip Carpet Cleaning have found that our clients prefer to get our professional upholstery cleaning twice a year to prevent this type of damage to the furniture.
Are there any health risks associated with dirty upholstery?
Not only is the air in your home dirtier and possibly full of allergens and molds when you don't have regular upholstery cleaning, but you are actually risking the health of your family and friends.
Think about how you'd feel if Grandma came over for the holidays, started a coughing episode that led to a full-blown allergy attack, and had to go to the ER. You may feel bad because deep in your heart it is obvious that your neglect contributed to Grandma's condition.
That overhanging sense of health liability for family, friends and visitors is one of the reasons why many people take the easy route and simply make the call to Carpet Cleaning Dallas TX.
What Are the Consequences of Neglecting Regular Upholstery Cleaning?
Keeping up regular upholstery cleaning allows your home to look the best it can always. Some of the consequences of neglecting it include:
You and your family may become sick more often, which costs you money and down time from work.
You feel a sense of shame when you always try to hide the stains on the furniture when people come to visit.
The bacteria and molds in the dirt and dust make everyone who lives or visits your home feel like they can't get 100% clean or in an environment that isn't clean.
The inhabitants start to believe that a dirty home is part of their normal way of life. For children to grow up in a dirty home, these beliefs become the foundation of how they think a home should be, which is carried over to their marriages.
Your furniture's life span is less than what it should be.
Can I Clean My Upholstery Myself, or Should I Hire a Professional?
Everyone should consider the benefits of professional cleaning vs DIY methods. DIY upholstery cleaning methods are ones you read about on the internet to take care of stains or pet hair. These methods take time, are haphazard on whether or not they will work, and may even further stain or ruin upholstery. Plus, it's an endless job and not fun either! This is why calling in the pros is really a better answer.
Professional upholstery cleaners do upholstery cleaning differently:
They clean your sofa more intensively than you can clean it.
hey have the tools to properly address every issue found on your upholstery. You may have purchased equipment to help you clean carpets and upholstery but according to Consumer Reports online, the effectiveness of the different machines on the market varies.
When a cleaning solution or water is sprayed onto the upholstery, the pro cleaners' equipment is exceptional for sucking up the excess water. This is a real plus, because wet upholstery can form mildew or mold if the water is left in it for too long.
The pros clean upholstery 10 or more times a week compared to your 1 or 2 times per year. They have more experience in it.
The pros know exactly what to do and how to do it and are in and out within a few hours.
Revitalize Your Upholstery Today with Dallas Professionals
Now that you are familiar with the value of regular upholstery cleaning, you'll see your house differently from now on. You'll develop an eye for how your furniture looks, and an image of what it could look like - and won't want to sacrifice that image for anything!
When you can recognize the signs that your upholstery is in need of attention, you don't have to buy future health or image problems. Compromising the health and well-being of your loved ones isn't an issue when skilled professionals do the job for you.
And although it's tempting to use DIY methods, the results they offer will never come close to the results of professionals. Once our Tulip professionals are on the scene, they will make the determination for how often your upholstery needs to return to its like-new condition.
But right now, it's time to take action. Experience the transformation of your home with Carpet Cleaning Dallas TX.