Preparing for a Mold Remediation Specialist Visit
Even if you have not fallen victim to a burst pipe or leaky roof, the U.S. Environmental Protection Agency warns that your home still is not immune to household mold. The humid summers and temperate winters in Dallas, TX creates a welcoming environment for mold to accumulate:
Behind kitchen and bathroom walls
In poorly ventilated attics and crawlspaces
Within carpets and upholstery that have absorbed spills, tracked-in rainwater, or condensation.
This last possibility poses perhaps the most troubling for homeowners. Mold is difficult to remove by yourself, often requiring our Dallas mold remediation specialist to visit your place. Our techs will track its source, and effectively remove mold, ensuring it does not return.
Preparing for mold remediation service
There are several steps you can take to prepare for a mold remediation specialists arrival to help them complete the job efficiently.
Prepare the environment for work - When you schedule your appointment, ask whether the company prefers that you move furniture or make other changes to the area infected with the mold. Depending on the situation, making the area accessible will expedite the job. In any event, you should secure any sentimental or irreplaceable items such as family photos, art, and antiques.
Avoid the infected mold area - If possible, keep people and pets out of the room(s) to be treated for mold infestation. The room should be off-limits from the time mold is detected until it has been successfully removed. The Centers for Disease Control notes that different species of mold can cause or aggravate health issues, resulting in cold, allergy, and flu-like symptoms, including runny or stuffy nose, itchy eyes, cough, headache, and difficulty breathing.
Prevent cross-contamination from ventilation - Part of our mold remediation process may include inspection and testing of the air in your home. To deliver accurate results we need to test the air in several rooms. Air conditioning, central heating, air purifiers, humidifiers and dehumidifiers, and even open windows allows cross-ventilation that may skew the results. Close the doors to keep moldy rooms isolated and prevent bad air from circulating into other areas of the home.
Consider a vacation - To both facilitate the remediation process and protect your family's health, it may be best to vacate your home until the mold is removed. If you stay in the house you may inadvertently touch mold-infected areas including furniture, clothing, and carpet and transfer mold spores to previously "clean" areas, where it can take hold and multiply.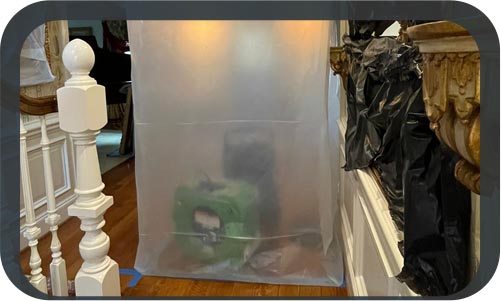 What happens during the mold remediation process?
Carpet Cleaning Dallas TX takes pride in our comprehensive mold remediation service. When you schedule our experienced, courteous technicians to solve your mold problem, you can count on being able to return to your normal routine as soon as possible. We won't rush the job; presenting you a healthy home is too important. But we will arrive on schedule and follow our proven process to ensure efficiency.
Mold remediation starts by mobilizing our state-of-the-art equipment to the areas of your home where mold has been identified. Once the mold's location is known, we follow these steps to sanitize your home:
Containment - We keep the mold right where it is, preventing it from relocating in another area of your home. We keep it cornered, so we can kill it completely.
Filtration - We employ powerful HEPA (high-efficiency particulate) filters to capture mold before it can escape the containment area.
Removal - Mold removal is only part of remediation. The removal step involves killing the fungus, physically detaching it from your home's non-porous surfaces, and giving it the bum's rush from your home.
Cleaning and Disinfecting - The larger remediation project includes multiple phases including the cleaning of porous surfaces the mold has infiltrated. We use antimicrobial solutions to get into these tight and hidden spaces where rogue spores may lurk. This helps prevent the mold's return.
Final Inspection - Before we say a job is done, we conduct a final inspection to check that all aspects of the mold remediation protocol were completed successfully.
How common is mold in TX homes?
The CDC notes that molds are quite common in virtually every country and every climate. In addition to setting up shop in high-moisture areas around windows, pipes, and leaks, mold can grow "on paper products, cardboard, ceiling tiles, and wood products... in dust, paints, wallpaper, insulation, drywall, carpet, fabric, and upholstery." This can be especially troubling in the Dallas area. Some researchers believe our high humidity and frequent droughts aid mold spore development and distribution, amplifying the prevalence of health concerns and symptoms.
Where can you find mold treatment in Dallas?
Mold build-up in your home can cause significant health problems. Trying to get rid of it yourself may worsen the problem by dispersing spores into previously unaffected areas. If portions of your home have been subjected to moisture from leaky roofs, windows or pipes, or you notice an odd odor or discolored spots on your walls, you may have a mold problem. Carpet Cleaning Dallas TX can arrange a non-invasive mold test and perform any needed remediation quickly, affordably, using only people- and pet-friendly non-toxic products. Call us at 214-774-2892 to schedule an appointment!